Popcorn Supplies
---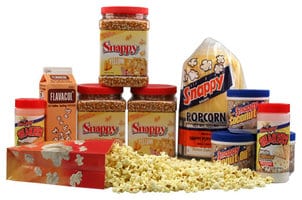 Cooking up a good bowl of popcorn takes more than just a microwave and a bag of ready to cook kernels. Those who take their popcorn making more seriously will need a few more supplies for a delicious bowl of freshly popped kernels.
Popcorn Kernels
Obviously, one of the first things needed are popcorn seeds. Before you pick out just anything from a store shelf, keep in mind that there are many different types of kernels. These may be pearl or rice shaped and can yield butterfly or mushroom flakes. The different varieties may also differ in taste and texture.
Popcorn Oil
Like kernels, there are many different types of oil that can be used for popping kernels. This ranges from olive oil to specialty oils that are flavored and colored. Each one has its own benefits and disadvantages. Do some research to find out which of these popcorn oils will work best for you.
Popcorn Seasoning
Those who like their popcorn full of flavor will find many different popcorn toppings to choose from. Take a pick from classic butter to sweet caramel or savory ranch. Popcorn seasoning comes in different forms such as liquid, powder and spray. Likewise, each of these has its ups and downs.
Popcorn Containers
While it is completely fine to serve cooked popcorn in a big bowl, there are those who may prefer to use specialized containers. This is especially true if the popcorn is being served at a party or sold. Containers vary in size and appearance, making it easy to find exactly what is needed.
Extras
Some other things needed may include measuring cups. Most kitchens already have this, so it is not a problem. This will help make sure that the right amounts of oil and kernels are used. For those who sell popcorn a proper popcorn scoop may be needed as well. <h2 class="middle_wrap">Popcorn Supplies</h2>
Obviously, the most important of the popcorn supplies are popcorn kernels. Popcorn kernels are actually seeds. Like other seeds, they are composed of an embryo which is found at the pointed tip and starch which is encased in a hard glossy shell. The starch on the inside holds both water and oil.
For many people, popcorn kernels are all the same. Of course, for those who take their popcorn seriously, this is not the case. Although all kernels are taken from corn or maize, there are many different varieties.
When considering popcorn supplies there are a wide variety of cooking oils available, but not all of these may be suitable for popping corn kernels. Oils each have their own characteristics, depending on where it is taken from. Some are more appropriate for popping kernels due to their properties. With the many different choices of cooking oil in the market today, which one is best for popcorn? There are a number of things to consider when picking out popcorn oils.
An important popcorn supply is popcorn seasoning, which is sometimes referred to as popcorn topping. The main purpose of popcorn seasoning is to make plain popcorn taste better and add diversity to this basic snack food. Popcorn seasoning comes in many different flavors, ranging from the classic salty to sweet and savory. These various tastes can be applied to popcorn through popcorn toppings in the form of powders, liquids and sprays.
Popcorn containers are optional popcorn supplies that are a great way to serve popped kernels. Not only do they conveniently store flakes and make it easy to carry around, they also add to the aesthetic value of this delicious snack. There is no doubt that an overflowing container will appeal to those who enjoy popcorn.

Want More Great Popcorn Content?
Our free Make Great Popcorn newsletter will be sent every few months and each edition will contain tips, tricks, recipes, and how-to's for making great popcorn! They will also contain links to some of the best popcorn information on the internet.
Subscribe Now!