Sweet Popcorn Seasoning
---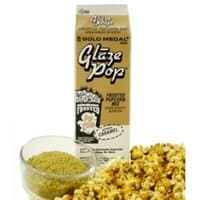 With its versatility, popcorn can easily be flavored with almost anything, including sweet popcorn seasoning. Those with a sweet tooth are sure to enjoy munching on this delicious treat. The great thing about this kind of topping is that you can make the popcorn just as sweet as you want. It can also be used together with other seasonings such as salt, to come up with a mouth watering mix of flavors. Like other toppings, this can be applied after cooking and is usually in powder form.

Our Recommendation
Sweet Popcorn Seasoning

Given the popularity of caramel popcorn, it is no surprise that there are a number of choices available for caramel popcorn toppings.
Wabash Valley Farms Sweet Caramel Popcorn Seasoning
is a powder seasoning that can be sprinkled on for those looking for fat free caramel popcorn. It goes on lightly, yet still gives a sweet caramel flavor to popcorn.

Kernel Season's
Caramel Popcorn Seasoning
is likewise a powder topping which can be used for those who need something with low sodium or gluten free. Like the powder made by Wabash Valley, it may thoroughly coat popcorn and can be used with a butter spray for better adhesion.
Gold Medal Glaze Pop
Caramel Corn Popcorn Flavoring
(see picture at top of page), also made by Wabash Valley Farms, is a granulated caramel seasoning that can be used with kernels for popping. It will give you a nice, soft and gooey batch of caramel corn. Unlike powders, it sticks very well to popcorn and will even provide a solid coating that adds a crunch when it hardens.
Kettle corn sweet popcorn seasoning also comes in many different brands. One bestselling brand for this sweet popcorn seasoning is
Kernel Season's Kettle Corn Seasoning
. Like other seasonings from this brand it works as a powder that can be sprinkled on, providing a light coating of flavor.

Urban Accent's
Sweet and Salty Kettlecorn Popcorn Seasoning
also offers a kettle corn flavor with their powdered seasonings. It is a good alternative to Kernel Season's for those who are vegan or have food allergies, since it is gluten free.
For other flavors, Kernel Season's offers many different choices such as the
Chocolate Marshmallow
and Milk Chocolate Caramel. Those looking for a caramel pecan flavor can find it available with the
Gourmet Popcorn Seasoning Assortment
.

Of course, you can also come up with your own version of these flavors by using different products. For example,
Gold Medal Chocolate Glaze Pop
can be used to coat popcorn then dressed up by adding some mini marshmallows.
Likewise, Gold Medal's
Frosted Caramel Popcorn Glaze Mix
can be used as base flavoring. Add some chopped pecans and you get a caramel pecan flavor with real nuts. Milk chocolate chips can also be used in place of nuts for a milk chocolate caramel flavor. This can also be dressed up by melting the chocolate chips and drizzling it over the caramel popcorn for that gourmet look.
More On Sweet Popcorn Seasoning
The most common sweet popcorn seasoning that people are familiar with is caramel. However, a whole range of other sweet mixes can be found in the market including:
Caramel
Sticky and brown, this is actually a confection that is made by heating up sugar. It adds a delicious, chewy and bittersweet taste to popcorn while giving it a crunchy exterior. All these characteristics make for a treat enjoyed by many.
Kettle Corn
Introduced by the Dutch and originally cooked in cast iron kettles, this sweet popcorn seasoning is most popular at fairs and other festive events. The mix of sugar and salt gives this just the right balance of taste.
Chocolate Marshmallow
Chocolate and marshmallow are both popular sweets that are loved by many. Put these together and you get an extra sweet and tasty popcorn flavor that is one of a kind.
Milk Chocolate Caramel
Again another combination of much loved sweets. The milk chocolate provides a creamy and sweet taste that is complimented by the delicious bittersweet caramelized caramel.
Caramel Pecan
Always a winning combination, this flavor gives the popcorn a sweet nutty flavor. This yummy flavor will surely remind you of a popular Thanksgiving dessert, caramel pecan pie.

Want More Great Popcorn Content?
Our free Make Great Popcorn newsletter will be sent every few months and each edition will contain tips, tricks, recipes, and how-to's for making great popcorn! They will also contain links to some of the best popcorn information on the internet.
Subscribe Now!